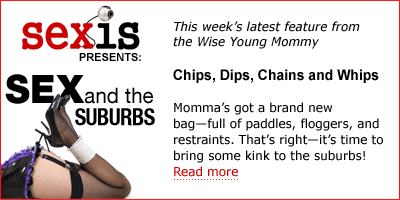 Today's
Sex and The Suburbs
column is all about getting a little kinky in the bedroom (and possibly coming away with some bruises and rope burn in the process). Some moms like a little bondage in the bedroom and why not? So how about you? Do you enjoy a little dominant/submissive role play or being handcuffed to the bedposts? Please share your stories and opinions with me!
As always, you can e-mail me at wiseyoungmommy@gmail.com or read the column and then come back and leave me a comment here with your thoughts, stories or questions. And if you are a mother, and you haven't taken my motherhood and sex survey, please click the link and take it now!!!
Click Here to take survey
This book isn't going to write itself and the more stories and feedback I get from real moms out there, the more informative and honest it is going to be. Please, help a momma out!